A Message from the Fall Bazaar
Let me introduce myself, I am Rosie Bentley, chairman of the Fall Bazaar for the past nine years. I would like to invite you to come and participate in the biggest event of Boone United Methodist Church. You will get to know us and make new friends by working at the Bazaar.
You will be amazed to see the Body of Christ at work. I believe, the best way for you to fully understand the impact the Bazaar will have on you is to hear it from new members, Barney and Pam Barnhardt:
We have served in many church and civic projects, but never before in one that equals the magnitude, degree of involvement and measure of success of the Boone UMC Fall Bazaar. We were truly amazed at the transformation from utter chaos as the trailers were emptied that Sunday afternoon through the set-up, operation and closing of the Bazaar. This is truly a hands-on project where the volunteers are involved directly in the event, from start to finish.
The Bazaar isn't just about raising money. It's about getting involved, getting to know a lot of folks who you may not have known before.   And it's about service to the community.   We are very glad we took the leap of faith and joined the party.  We recommend that you do the same.
There is a job for everyone! I will be glad to help you find an area that you will like. Thank you for your willingness to participate, you will be blessed. Contact the church office for more information at 828-264-6090.
A Message from Pastor Jason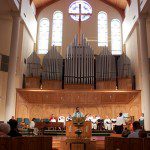 Thank you for your interest in our church and welcome to our website! We hope this virtual visit will lead to a face-to-face relationship so that we can worship, study, serve, sing, and grow together toward friendship with God and one another. To that end we have dynamic worship with an emphasis on preaching, a strong Sunday School program, innovative children's and youth ministries, and are host to countless other ministries. We do lack one thing: we believe we only discover who Jesus is in relationship with others—so we need you, please join us! Read More