New Series: Questions God Asks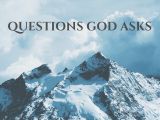 If you had one question you could ask of God, what would it be? Probably something big—God, why did you let this awful thing happen? God, what do you want of me? God, how do I know you're real?
These are good questions. Any answer has to be full of mystery, full of "I don't know," and has to include a glance at Jesus on his cross.
And God has some questions for us in return. This series, "Questions God Asks," will address some of God's questions to us in scripture.
Our church has this among its core values: "Ask hard questions." Chief among these is Jesus' question of each of us: "Who do you say that I am?" We hope this series will help you ask and answer that one.
A Message from Pastor Jason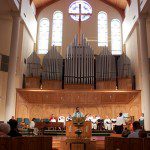 Thank you for your interest in our church and welcome to our website! We hope this virtual visit will lead to a face-to-face relationship so that we can worship, study, serve, sing, and grow together toward friendship with God and one another. To that end we have dynamic worship with an emphasis on preaching, a strong Sunday School program, innovative children's and youth ministries, and are host to countless other ministries. We do lack one thing: we believe we only discover who Jesus is in relationship with others—so we need you, please join us! Read More