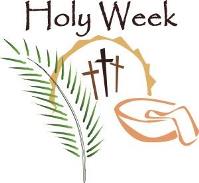 Holy Week is the summit from which we look down on and evaluate all the rest of the year. And do we ever have a Holy Week planned for you. I want to encourage all of you to take part in all of Holy Week. It's the week where we walk with Jesus down a lonely road to Golgotha, called "Skull Place," to die. And yet that death is not the end.
Join us for all our Holy Week Activities. As a church we will gather on Wednesday at 7:00 pm in the chapel to celebrate a foot washing, where Jesus, the greatest, takes the role of a slave. On Thursday we have the 22nd dramatization of "The Last Supper". On Friday, The Stations of the Cross will be on exhibit in the sanctuary. Then we will celebrate the seven last words that Jesus says from his cross: "Father, forgive," "I thirst," "It is finished," and more. On Holy Saturday we will have a Family Easter Celebration with an egg hunt and other children's activities. Easter Sunday will begin early, 6:30 am, while it is still dark (John 20:1), when the women first came to the tomb. We will worship in the chapel. Our first sunrise service in some time will include music, preaching, communion. Our regular worship services are at 8:45 am, 11:00 am, and Crossroads at 10:55 am.
And what a gift to serve a crucified and risen Lord together in these mountains. Blessings for Holy Week.