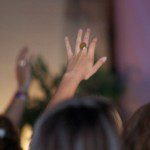 As you drive into Boone on Highway 421, while you pass New Market Centre, cast a glance toward Howard's Knob and you will see our sanctuary, built at the base of the mountain. The church is a visual echo of the mountains that surround us in the High Country. Looked at biblically, these mountains remind us of God—towering, ancient, reliable, beautiful. Our worship at Boone UMC is designed to be a meeting place with the God who loved us even before the mountains were formed, and who meets us in the tender flesh of Jesus, who is working now by the Holy Spirit to draw us and all creation to himself.
Join us for our newest worship experience, Crossroads. This free-flowing, multi-sensory gathering meets every Sunday at 10:55 a.m. in our Family Life Center, where Vern Collins preaches a powerful message. This service is a favorite of high school and college students, as well as adults who enjoy the dynamic and energetic atmosphere.
If you would like to provide some much needed and very important help in preparing our space to be warm and welcoming for worshipers on Sunday mornings then you may come at 8:30am for Set Up and at 9:30am for Hospitality. Thank you in advance for your willingness to be a part of this.