Mirror to the Church: Resurrecting Faith after Genocide in Rwanda, by Emmanuel Katongole and Jonathan Wilson-Hartgrove
Come learn more about Rwanda and what we can learn from the Rwandan church in a book study led by Brandon Wrencher, beginning on Monday, March 10th at 5:30 pm.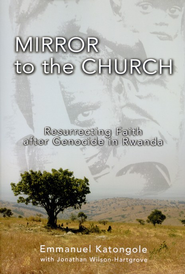 We learn who we are as we walk together in the way of Jesus. So I want to invite you on a pilgrimage. Rwanda is often held up as a model of evangelization in Africa. Yet in 1994, beginning on the Thursday of Easter week, Christians killed other Christians, often in the same churches where they had worshiped together. The most Christianized country in Africa became the site of its worst genocide. With a mother who was a Hutu and a father who was a Tutsi, author Emmanuel Katongole is uniquely qualified to point out that the tragedy in Rwanda is also a mirror reflecting the deep brokenness of the church in the West. Rwanda brings us to a cry of lament on our knees where together we learn that we must interrupt these patterns of brokenness. But Rwanda also brings us to a place of hope. Indeed, the only hope for our world after Rwanda's genocide is a new kind of Christian identity for the global body of Christ—a people on pilgrimage together, a mixed group, bearing witness to a new identity made possible by the Gospel.
Don't Sing Songs to a Heavy Heart, by Kenneth C. Haugk
Like one who takes away a garment on a cold day, or like vinegar poured on soda, is one who sings songs to a heavy heart. (Proverbs 25:20)
This proverb describes an all-too-human problem each of us faces from time to time. We want to reach out and help those who are hurting—but the words or actions we use may unintentionally add to their burdens instead of easing their pain. All are invited to join the Stephen Ministry Team as they lead this Book Study, from 6-7:30 pm on March 11, March 25, April 8, and April 22 in room 125.
Women's Study – led by Marge Allan
Contact the church office to find out more about this study.
Thursday Topical Study
Join Rev. Gene Ammons at 10:00 am each Thursday morning at 10:00 am in room 123. Study will be different each week. No book or literature required. Just the Bible! This study will last approximately one hour each week.
Trip to the Holy Land – with Jason Byassee
Contact the church office for more information about this trip that will take place October 2014.
New Sunday School Class for 20′s and 30′s
Join the newest class "Oasis" with leader Jonathan Allen on Sunday mornings at 10:00am in room 130.
Disciple I
Are you hungering for the Word of God? DISCIPLE I is a 32-week in-depth study of Scripture from Genesis to Revelations. You will be strengthened in your faith. Classes taught by Jeff and Carrie McClain will start late August and run through May. Contact Jeff McClain for more information.
Men's Bible Study
This group of men meets every Saturday morning at 7:00 a.m. in room 200 except Christmas. This intergenerational group of men come together to focus on one book of the Bible at a time.
Past Studies
Financial Peace University , by Dave Ramsey
Jesus and Darwin How do faith and science fit together? led by Dr. Scott St. Clair and Pastor Jason  
One In A Million: Journey to Your Promised Land, by Priscilla Shirer
Financial Peace University, by Dave Ramsey
When Christians Get It Wrong, by Adam Hamilton
Mercy Triumps, a Beth Moore Study on the book of James
What Every Church Member Should Know About Poverty, by Bill Ehlig & Ruby Payne, Ph.D.
Christian Caregiving: A Way of Life, by Ken Haugk
God's Big Picture, by Vaughn Roberts
Bad Religion, by Ross Douthat
Why Jesus Crossed the Road, by Bruce Main
Congratulations to our Disciple Graduates
Congratulations to the following people who recently completed a Disciple Bible study. The goal of the studies is to develop disciples of Jesus Christ who know and love God's Word.
In Disciple I participants follow a daily pattern of reading and study for 34 weeks, moving through most of the Bible.
In Disciple II focuses on the Genesis, Exodus, Luke and Acts over a 32-week period. Participants have completed Disciple I.
Disciple IV focuses on the writings of John and Revelation over a 32-week period. Participants have completed Disciple I, and many have completed Disciple II & III, as well.
2013 – Disciple II, led by Jason Byassee
Stephanie Allen, Sally Anderson, Cathy Barr, Lorraine Clarkson, Mary Horn, Kerry Lewis, Charles and Denise Stanley, Ryan Stull
2012 – Disciple I, led by Susan Anderson
Kerry Lewis, William Lewis, Harold Tilley
2012 – Disciple IV, led by Maggie Tilley
Patsy Anderson, Renee Choate, Margaret Eggers, David Freeman, Cheryl Marshbanks, John Marshbanks
2012 – Disciple I, led by Jason Byassee
Jonathan Allen, Sarita Beach, Brendan Byers, Elizabeth Shukis, Caitlin Tremper, Charlie Webster, Mary Ann Younts