Revival: Faith as Wesley Lived It, by Adam Hamilton
Join the Koinonia Sunday School class in room 123 every Sunday at 10:00am for the challenging video presentation and an interesting discussion.
Bible Study Fellowship
This international, interdenominational, intergenerational, in-depth Bible study. It is opening a satellite discussion group (primary location is Hickory) for women in the Boone/Blowing Rock area on Thursday mornings. For more info. or questions, contact Julie West at 828-268-2884 or 828-719-6772.
Disciple II
A 32-week intensive bible study that offers a deeper examination of Genesis, Exodus, Luke, and Acts, emphasizing the rhythm of coming to God and going for God. Classes taught by Jeff and Carrie McClain will start in September and run through May. Contact Jeff McClain for more information.
Covenant Bible Study
This 24-week journey through the bible focuses on God's faithfulness as a central theme. Participants will read 2-4 chapters of the bible daily for six months and journal their reflections. Contact Pastor Jason if you are interested. For more information visit www.covenantbiblestudy.com.
Ongoing Studies
Women's Study – led by Marge Allan
Contact the church office to find out more about this study.
Thursday Topical Study
Join Rev. Gene Ammons at 10:00 am each Thursday morning in room 123. Study will be different each week. No book or literature required. Just the Bible! This study will last approximately one hour each week.
Men's Bible Study
This group of men meets every Saturday morning at 7:00 a.m. in room 200 except Christmas. This intergenerational group of men come together to focus on one book of the Bible at a time.
Past Studies
Counterfeit Gods: The Empty Promises of Money, Sex, and Power, and the Only Hope that Matters, by Timothy Keller
Gideon: Your weakness. God's strength. by Priscilla Shirer
Dave Ramsey's Financial Peace University
Defining "Discipleship" What does it look like in the Gospels?, led by Duke intern Ryan LaRock
Companions in Christ, The Way of Prayer,  by Jane E.Vennard and Stephen D. Bryant
Sacred Space, a Study of Prayer by Jeff and Carrie McClain
Mirror to the Church: Resurrecting Faith after Genocide in Rwanda, by Emmanuel Katongole and Jonathan Wilson-Hartgrove
Don't Sing Songs to a Heavy Heart, by Kenneth C. Haugk
Financial Peace University , by Dave Ramsey
Jesus and Darwin How do faith and science fit together? led by Dr. Scott St. Clair and Pastor Jason
One In A Million: Journey to Your Promised Land, by Priscilla Shirer
Financial Peace University, by Dave Ramsey
When Christians Get It Wrong, by Adam Hamilton
Mercy Triumps, a Beth Moore Study on the book of James
What Every Church Member Should Know About Poverty, by Bill Ehlig & Ruby Payne, Ph.D.
Christian Caregiving: A Way of Life, by Ken Haugk
God's Big Picture, by Vaughn Roberts
Bad Religion, by Ross Douthat
Why Jesus Crossed the Road, by Bruce Main
Congratulations to our Disciple Graduates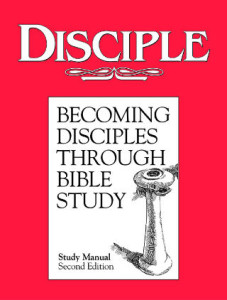 Congratulations to the following people who recently completed a Disciple Bible study. The goal of the studies is to develop disciples of Jesus Christ who know and love God's Word.
In Disciple I participants follow a daily pattern of reading and study for 34 weeks, moving through most of the Bible.
In Disciple II focuses on the Genesis, Exodus, Luke and Acts over a 32-week period. Participants have completed Disciple I.
Disciple IV focuses on the writings of John and Revelation over a 32-week period. Participants have completed Disciple I, and many have completed Disciple II & III, as well.
2014 – Disciple I, led by Jeff & Carrie McClain
Sally Anderson, Kelly Broman-Fulks, Bob Bumgarner, Lorraine Clarkson, Donna Lawson, James Lorello, Jessica Lorello, Chris Schoonover, Jenny Schrum, Charlotte Smith, and Sarah Strickland.
2013 – Disciple II, led by Jason Byassee
Stephanie Allen, Sally Anderson, Cathy Barr, Lorraine Clarkson, Mary Horn, Kerry Lewis, Charles and Denise Stanley, Ryan Stull
2012 – Disciple I, led by Susan Anderson
Kerry Lewis, William Lewis, Harold Tilley
2012 – Disciple IV, led by Maggie Tilley
Patsy Anderson, Renee Choate, Margaret Eggers, David Freeman, Cheryl Marshbanks, John Marshbanks
2012 – Disciple I, led by Jason Byassee
Jonathan Allen, Sarita Beach, Brendan Byers, Elizabeth Shukis, Caitlin Tremper, Charlie Webster, Mary Ann Younts