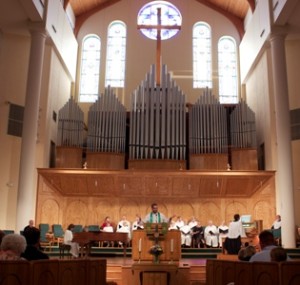 Thank you for your interest in our church and welcome to our website! We hope this virtual visit will lead to a face-to-face relationship so that we can worship, study, serve, sing, and grow together toward friendship with God and one another. To that end we have dynamic worship with an emphasis on preaching, a strong Sunday School program, innovative children's and youth ministries, and are host to countless other ministries. We do lack one thing: we believe we only discover who Jesus is in relationship with others—so we need you, please join us!
As you drive into Boone on Highway 421, while you pass New Market Center, cast a glance toward Howard's Knob and you will see our sanctuary, built at the base of the mountain. The church is a visual echo of the mountains that surround us in the High Country. Looked at biblically, these mountains remind us of God—towering, ancient, reliable, beautiful. Our worship at Boone UMC is designed to be a meeting place with the God who loved us even before the mountains were formed, and who meets us in the tender flesh of Jesus, who is working now by the Holy Spirit to draw us and all creation to himself.
Come join us for worship on Sunday mornings at 8:45 a.m. for our praise & worship service. This one features an excellent praise band plus the best of both contemporary and ancient forms of worship. Our 11 a.m. traditional service features the best organ and choral music in the area. Please also try our Crossroads service—a free-flowing, multi-sensory gathering—at 10:55 a.m. in our Family Life Center, where Vern Collins preaches a powerful message each week. We also have a campus in Todd, North Carolina, a church with a rich, 150-year history on the banks of the New River called Blackburn's Chapel. There a small and faithful group will greet you like you've just arrived at a family reunion, with a plate reserved for you.
To learn more please contact me by email (seniorminister@booneumc.org) or phone (828)264-6090.
Grace & Peace,
Jason Byassee, Senior Pastor