Tickets for tonight's performance may be bought
at the church starting at 6:00pm.
October 6 – Ballet Magnificat!'s  The Scarlet Cord
Experience int
ernationally renowned Ballet Magnificat! America's premier Christian ballet company as they bring The Scarlet Cord to stage.  A gripping story of revolution and freedom set within the walls of the Soviet Union.  Don't miss your chance to s
ee The Scarlet Cord live onstage at Boone UMC on October 6 at 7:00pm. 
Tickets go on sale August 12.  Tickets are $25.00 and are non-refundable and may not be exchanged.  All tickets are General Admission.  Please email your request for tickets to tickets@booneumc.org.  Tickets may also be purchased by calling Dana at 828-264-6090 ext. 246.
…and to make this night even more special, Ballet Magnificat! will be premiering their newest ballet: "Amazed".  "Amazed" a series of Contemporary-style ballet dances set to modern worship music focusing on the mystery and majesty of the Gospel.
More about Ballet Magnificat!
Ballet Magnificat! was founded in 1986. Magnificat is Latin for "to magnify Him".  It is derived from "Mary's Song" of praise in the 1st Chapter of the Gospel of Luke when she first learned she was to be the mother of the Messiah. Ballet Magnificat! is an arts organization dedicated to presenting the
good news of Jesus Christ to the whole world. Our professional touring companies have performed nationally and internationally, ministering to audiences in the United States as well as Czech Republic, Canada, Belize, Honduras, Costa Rica, El Salvador, Singapore, Germany,  Netherlands, Slovakia, Poland, Belgium, Greece, France, Italy, Macedonia, Koso
vo, Israel, Colombia, Puerto Rico,  Cayman Islands, Switzerland, Korea, Philippines, and China.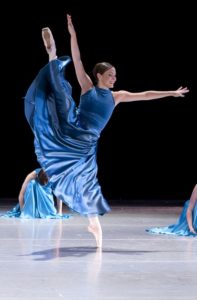 Ballet Magnificat! School of the Arts was established in 1989 and presently has 300 students enrolled. The Summer Dance Intensive and Teachers Workshop, which attracts dancers and teachers nationally and internationally, was first held that same year. Headquartered in Jackson, Mississippi, Ballet Magnificat! features dancers and teachers who share our vision to pursue excellence in the arts. The School of the Arts fosters technical and spiritual training of dancers of all ages through specialized class instruction and workshops.
Our heart's desire is to be in that place where we can be of the most service to further His Kingdom.  We are grateful to be a part of the body of Christ, and we pray that God will use our ministry to be a blessing to you.  (from http://www.balletmagnificat.com/about-us).