Having Difficult Conversations:


When It's Not Easy to Agree to Disagree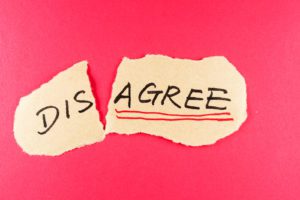 This 4-week class will be an opportunity to learn and practice how to approach difficult and crucial conversations we might encounter in our personal, professional and public lives.  In a current climate where we have forgotten how to "agree to disagree" with one another, this series will prepare us to respectfully and courageously embrace these conversations.  We will learn techniques from books, the Bible and each other.  We will create safe space to put into practice techniques that we have learned.  We will have difficult conversations ourselves on current topics facilitated by professional experts from within our own church family.  And in the end, hopefully we will have developed our own critical thinking skills, learned how to listen to other perspectives as well as articulately express our own for the purpose of greater understanding of one another.  Because we believe practicing these conversation skills helps us model a more Christ Like example to the community.  Pastor Lory Beth Huffman will be facilitating.  Recommended text is Crucial Conversations: Tools for Talking When Stakes are High by Kerry Patterson, Joseph Grenny, Ron McMillan, and Al Switzler.

Classes will run February 4-25 each Monday from 6:30-7:30 in Room 123
February 4 –Class based on Biblical teaching about crucial conversations  –
February 11-Class based on Crucial Conversations book
February 18- Dr. Wendell McKenzie – guest facilitator on Genetics and Sexuality
February 25- Dr. Ozzie Ostwalt guest facilitator on Hospitality of Others
Please click here to register for the class.
Women's Bible Study/Book Study
A women's Bible/Book Study on Wednesday evenings is currently meeting from 6:00 – 8:00pm every Wednesday evening in Room 123.  We will be studying a variety of topics.  Currently we are studying "The Seven Experiment: Staging Your Own Mutiny Against Excess" by Jen Hatmaker.
This study will be ongoing and is open to all ladies who want to draw closer to God.  For questions, please email or see Pastor Patti.  We regret that we do not have childcare right now for the sessions but are hoping to have in the future. 

Becoming Disciples from Bible Study

This September, BUMC will begin a new Disciple I study. This
intensive study covers 70% of the Bible over a 34 week period. 
It will be held on Thursday nights from 6:00 – 8:00pm and childcare
will be available. 
For someone who wants to get the big picture of the Bible and be able to tie all the stories you've heard into one narrative, this is for you. This is a challenging study that anyone can appreciate, whether you know the Bible well, or are just beginning to get into the Bible.

If you would like to sign up for this class, please

click here

and fill out the registration form.  For more information, you may contact

Marcia Clay.