Welcome! BUMC Children's Ministries is committed to helping children and families grow in their knowledge of/and relationship with Jesus Christ in a loving and caring environment.  BUMC tries to foster this growth through our Sunday Mornings @ BUMC, Mid Week Opportunities, Major Monthly Events, and Service Opportunities for the children and their families.  Each aspect of the Children's Ministry here at BUMC is designed to provide a meaningful and joyous experience to share God's love, and to teach young boys and girls the stories of our faith. Through these stories, children can come to know God as a friend, and Jesus as their Savior. Please browse our events and them to your calendar, we hope to welcome you soon.
Children's Ministry Events Calendar
Sunday Morning

Opportunities

 
Nursery  (8:30 – 12:30pm) (

Infants through Age 2)
Sunday School (10:00 – 10:45am)
2s & 3s – Room 3   Hands on Bible
4s & 5s – Room 5   Hands on Bible
Kindergarten – Room 10   Hands on Bible
First & Second Grade – Room 11   Godly Play
Third & Fourth Grade – Room 12   Godly Play
Fifth Grade – Room 13   Small Group
Sixth Grade – Room 201   Confirmation Youth
Children's Church
All children are welcome and encouraged to attend the church services. However we do offer Children's Church during all services for children from ages three up through first grade. There they will experience a form of worship geared toward their age group; storytelling, crafts, and prayer are just some of the activities children will participate in! Parents can pick their children up on the Children's Floor after the service.
Children's Church Locations and Times
8:45 Worship Service:         Room 6 (Preschool) and Room 9 (Elementary)
11:00 Worship Services:     Room 6 (Preschool) and Room 9 (Elementary)
Mid-Week Opportunities
Children are born with an innate sense of wonder and faith that is real and authentic. Our focus in Children's Ministry is not only on religious instruction or teaching, but rather spiritual formation during childhood which includes instruction, but involves much more. As teachers and leaders, our role is to provide a foundation of experiences on which children move toward a maturing faith, and a deepening relationship with Jesus Christ through which we become more like Christ living in our everyday lives in the world. We offer many opportunities for children to grow in their relationship with Jesus Christ.
Boone United Methodist Preschool (BUMP)  This is a morning program for children aged 1 to 4 years old.  This program provides experiences which encourage the child to ask questions, explore, experiment, make friends, and to know that every person has value as a child of God. For more information about BUMP, please click here.

Club 45  A Preteen Community Group designed for 4th & 5th graders.  Meets on Wednesdays after school from 2:30-4:30. Club 45 kids can be with other kids who are experiencing similar life challenges. Club 45 is a place to unpack some of those challenges in a Christ centered space. We will have time to eat yummy snacks, play some games, study scripture, and learn together what it means serve our community! Come check us out!
Confirmation Youth If we had to define the confirmation ministry at BUMC with one word it would be relationships. We want our confirmation youth to build relationships with other youth, with adults who care about them, and FIRST AND FOREMOST with God. 6th graders and older are invited to participate.  Click here for registration forms for Confirmation 2019.
2019 Confirmation Weekend/Baptism
Major Events

Easter Egg Hunt
 Children of all ages will be delighted as they explore hands-on activity stations and participate in meaningful response opportunities to the greatest act of love of all time.  Children and families can sit with storytellers as they shared the Story of Easter.  As always, we will have an Easter Hunt come rain or shine.

Vacation Bible School 
VBS, which is designed for children three years old through rising sixth graders, is offered ever summer to the children of Boone UMC and the community. Biblical studies are explored in a fun and informative way. This years theme is the Rocky Railway, come have fun and grow closer with God with us this summer! Cho cho! Learn more here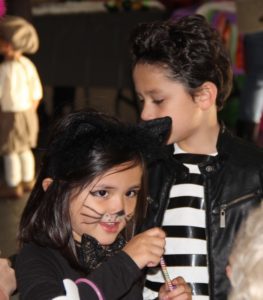 Booo-ne Treat or Treat
Are you looking for a place to Trick or Treat in a warm, dry and safe environment?  The Children's Ministry host a great night of safe Trick or Treating every October 31 in the Family Life Center from 5:00 to 7:30pm. There are always lots of treats, games and a light dinner for those who want more than candy.  If you would be interested in helping out with this event, please click here or contact Colette.
Advent Festival
This December, food, fun and crafts are used to teach children about the Advent Season.  This annual event is designed especially for families with young children, but the entire church family can and does participate.  
Friday Night Out
Thank you for joining us for Friday Night Out on February 14, 2020. Every year  Children from 6 months through 11 years old are invited for an evening of kid to kid fun & fantastic kid-friendly foods. The whole evening will be kid-sized! Older kids will enjoy organized games, the Lego room, and inflatables by JUMP!. Younger kids will make valentine's, read books, play games, and enjoy movie time in their small groups. Parents are able to spend quality time reconnecting at local restaurants around town. Thank you, Sunday Morning Workers, for loving our children in such a special way!
Children's Service Opportunities
The 2020 Diaper Drive
In 2015, Boone United Methodist Church heard about the need for diapers in our community, and the Diaper Drive was born. The response was overwhelming! Last year, the Drive collected over 5,500 diapers (A diaper wall was built and it reached a height of seven feet high by six feet wide!) Our donation to the Children's Council's last year, helped them to reach their goal, "…to ensure every child in our community has enough diapers to remain clean, happy and healthy."
Hopefully, this year's Diaper Drive will be even more incredible. Our goal this year is to collect over six thousand diapers before March 22. That, my friend, will be a lot of diapers. But as is the case with diapers, they go fast!  Every few seconds someone, somewhere in Watauga County is ready for a clean diaper. If you have any questions about Boone UMC's Diaper Drive, please contact Colette.
Christmas Eve Cookie Distribution
Cookies are baked by the church, collected, and then sent out with families on December 23 and on Christmas Eve to be distributed to area agencies where folks are working. We have a list of places to go such as the Police Department or Fire Department.  This is one of Boone UMC's efforts to remember those who serve and keep us safe (even on Christmas Eve).
Children's Music Opportunities