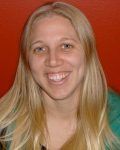 Associate Pastor of Community Engagement
Email: Laura Beach Byrch, Ext. 248
Laura is an elder in the United Methodist Church. As a college student she nurtured a passion for preserving creation and marginalized communities. It was there that she received an unexpected call into ministry. Always eager to laugh, Laura loves people and all things that foster a sense of community and making connections. She believes deeply that God has called the church to be diverse, compassionate, and just. Laura is thrilled to connect our church with the community and world, as we live into Jesus' example and calling for the church to be a place of unlikely friendships created and sustained by God's mercy.