In the summer of 2014 we have a
Family Mission Trip
to Cherokee, NC.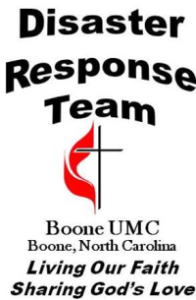 The Boone United Methodist Disaster Response Team is comprised of over 50 individuals who have been certified by UMCOR to work in areas that have been effected by natural disasters.  We at Boone United Methodist Church have been called to serve both locally and regionally, within a 6 hour drive, to provide a Christian presence, compassionate interaction, and are capable of doing light construction, and clean up after a disaster or storm. Our Mission is be the Hand and Feet of Jesus.
The best way to ensure your family's safety is to plan ahead before a disaster strikes. The Family Disaster Preparedness Supply List is available for your consideration. These items would supply your family's needs for 3-7 days.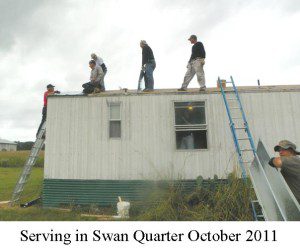 In October 2011, we missioned in Swan Quarter, North Carolina repairing hurricane damage on a trailer.
We had the opportunity to welcome St. Andrews UMC of Edgewater, MD's UMVIM (United Methodist Volunteers in Mission) in June 2011 with Radical Hospitality, including a meal and entertainment for 45 individuals.
In April 2011, We joined forces with Deerfield UMC in assisting St. Luke's United Methodist Church in Sanford, NC with tornado damage to a home.
The first trip was in July 2010, were we worked to repair two homes with flood damage in Douglasville, Georgia.